---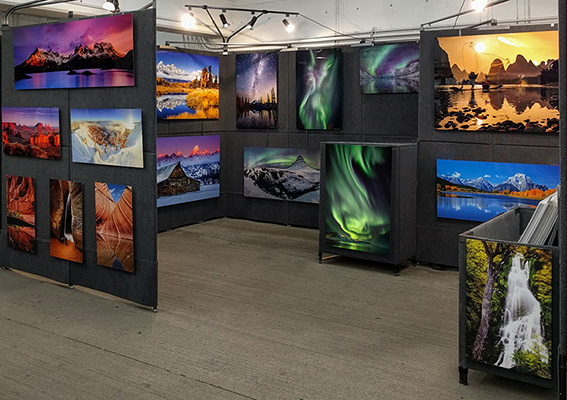 Upcoming 2020 Events & Exhibits:
Planning for 2020 Events is currently in progress. Check back in the spring to see shows as they are added, and/or subscribe to my newsletter below to be notified of events in your area.
---
Subscribe to the newsletter to receive quarterly notifications of upcoming exhibits in your area, along with sneak peaks of new work, promotional discounts, and more. Your information will not be given to any third parties nor used for any purposes other than the stated communications. 
Please connect with me on social channels!
---
2019 Events & Exhibits
For personal reasons I'm doing a reduced number of shows for 2019. Below is a tentative schedule which may change; please check back prior to the event for confirmation. Subscribe to my mailing list below for information about upcoming events & exhibits, promotions, and more.
| DATE | SHOW/EVENT/GALLERY | LOCATION | BOOTH |
| --- | --- | --- | --- |
| Ongoing | Trackside Gallery | Helper Hub, 133 S. Main St., Helper, UT | N/A |
| April 13th - 14th | Best of the Northwest Spring Art & Craft Show | Magnuson Park Hangar 30, Seattle, WA | Gallery - P1 |
| June 14th - 16th | Edmonds Arts Festival | 700 Main Street, Edmonds, WA | 117 |
| July 12th - 14th | Redmond Arts Festival | Redmond Town Center, Redmond, WA | 19/20 |
| July 26th - 28th | Bellevue 6th Street Fair | 6th St., Bellevue, WA | B21 |
| Aug 2nd-4th | Kimball Arts Festival | Main St., Park City, UT | 325/327 |
| Aug 30th - Sept 2nd | Sausalito Art Festival | Marinship Park, Sausalito, CA | 314 |
| Nov 8th - 10th | Best of the Northwest Fall Art & Craft Show | Magnuson Park Hangar 30, Seattle, WA | TBD |
---
DATE

SHOW/EVENT/GALLERY

LOCATION

BOOTH

March 24th - 25th

Best of the Northwest Spring Art & Craft Show

Magnuson Park Hangar 30, Seattle, WA

Gallery-P6

April 6th - ongoing

Selected photos from my Utah Desert and Carbon County Historical Collections.

Trackside Gallery @ the Helper Hub - 133 S. Main Street, Helper, UT

N/A

April 20th - 22nd

T

ulip Festival Street Fair

S. First Street, Mount Vernon, WA

104

May 4th - 6th

Memorial Park, Wenatchee, WA

C24

May 25th - 28th

Juan de Fuca Festival

Vern Burton Community Center, Port Angeles, WA

51

June 1st - 3rd

ArtFest Spokane

Coeur d'Alene Park, Spokane, WA

R1

June 15th - 17th

Edmonds Arts Festival

700 Main Street, Edmonds, WA

333

July 13th - 15th

Redmond Arts Festival

Redmond Town Center, Redmond, WA

44

July 21st - 22nd

G

ig Harbor Summer Art Festival

Judson Street, Gig Harbor, WA

29

July 27th - 29th

Bellevue Arts Museum ARTSfair

Bellevue Square, Bellevue, WA

M7

August 3rd - 5th

Kimball Arts Festival

Historic Main Street, Park City, UT
200
DATE
SHOW/EVENT
LOCATION
BOOTH
March 25th & 26th
Best of the Northwest Spring Art & Craft Show
Magnuson Park Hangar 30, Seattle, WA

H4

June 16th, 17th, & 18th

Edmonds Arts Festival (Festival)

700 Main Street, Edmonds, WA

122

June 16th, 17th, & 18th
Edmonds Arts Festival (Juried Gallery)

*

Inside the Francis Anderson Center @ 700 Main Street, Edmonds, WA

N/A

July 7th, 8th, & 9th
Redmond Arts Festival

Redmond Town Center, Redmond, WA

31

July 21st, 22nd, & 23rd
Sequim Lavender Festival

West Fir Street, Sequim, WA

145

July 28th, 29th, & 30th
Bellevue Festival of the Arts
10300 NE 8th St, Bellevue, WA

163

August 4th, 5th, & 6th
Kimball Arts Festival
Historic Main Street, Park City, UT
443
August 11th, 12th, & 13th

Art Fair Jackson Hole

Miller Park, Jackson, WY
4
September 16th
Affordable Art for Everyone

**

Washington County Fair Complex, Hillsboro, OR

L12
October 7th & 8th
Issaquah Salmon Days Festival

Front Street & Sunset Way, Issaquah, WA

414
November 10th, 11th, & 12th

Best of the Northwest Fall Art & Craft Show

Magnuson Park Hangar 30, Seattle, WA
P8