---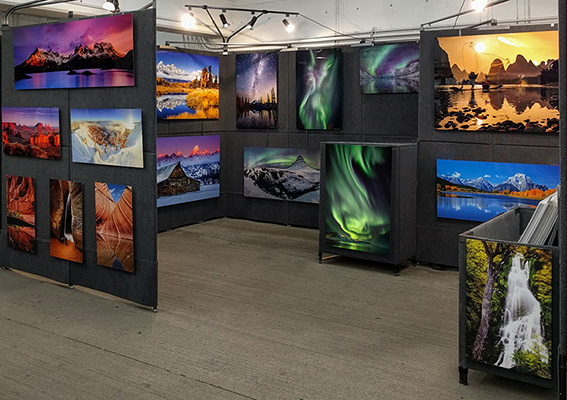 2021 Events & Exhibits:
Schedule is subject to change due to event restrictions; and new events may be added. Subscribe to the newsletter for the most up-to-date information!
---
Subscribe to the newsletter to receive quarterly notifications of upcoming exhibits in your area, along with sneak peaks of new work, promotional discounts, and more. Your information will not be given to any third parties nor used for any purposes other than the stated communications. 
Please connect with @ajpaulphoto on social channels!
---
2020 Events & Exhibits:
Due to Covid-19 all planned in-person exhibitions and events have been cancelled this year. Some events have pivoted to offer "virtual" online art events in various formats.  Of those, I am participating in the following - click on the virtual show title(s) to visit!
• • • • • • • • • •
Aug. 13- Sept. 13:  Sausalito Art Festival Silent Auction
This  online event includes two pieces each from a small, curated selection of artists who have exhibited in the prestigious Sausalito Arts Festival in previous years.  Unlike other virtual events this one is done in an online "silent auction" bidding format. 
• • • • • • • • • •
July 24-26: Best of the Northwest Virtual Summer Show
This one-weekend-only virtual event offers a selection of art for sale from each participating artist. Additionally for 2 hours each day, artists are available for online drop-in Zoom sessions to answer questions and discuss their work.  These sessions are scheduled as follows. Please pop into any of my Zoom sessions by clicking the links below anytime during the specified time windows!
Friday July 24: 4pm - 6pm
Saturday July 25: 11AM - 1PM
Sunday July 26: 1PM - 3PM
• • • • • • • • • •
July 17 - 26: Salem Virtual Art Fair
This one-week virtual event provides an interactive "virtual booth" map where you can preview participating artists' work and visit their websites.
| DATE | SHOW/EVENT/GALLERY | LOCATION | BOOTH |
| --- | --- | --- | --- |
| CANCELLED | Best of the Northwest Spring Art & Craft Show | Magnuson Park Hangar 30, Seattle, WA | CANCELLED |
| TBD | Schack Artist Garage Sale | Schack Art Center, Everett, WA | POSTPONED |
| CANCELLED | Edmonds Arts Festival | 700 Main Street, Edmonds, WA | CANCELLED |
| CANCELLED | Utah Arts Festival | Library Square, Salt Lake City, UT | CANCELLED |
| CANCELLED | Bellevue Arts Museum Arts Fair | Bellevue Square, Bellevue, WA | CANCELLED |
| CANCELLED | Art on the Green | North Idaho College, Coeur d'Alene, ID | CANCELLED |
| CANCELLED | Sun Valley Arts Festival | Atkinson Park, Ketchum, ID | CANCELLED |
---
Past Shows: 2019 Events & Exhibits
| DATE | SHOW/EVENT/GALLERY | LOCATION | BOOTH |
| --- | --- | --- | --- |
| Ongoing | Trackside Gallery | Helper Hub, 133 S. Main St., Helper, UT | N/A |
| April 13th - 14th | Best of the Northwest Spring Art & Craft Show | Magnuson Park Hangar 30, Seattle, WA | Gallery - P1 |
| June 14th - 16th | Edmonds Arts Festival | 700 Main Street, Edmonds, WA | 117 |
| July 12th - 14th | Redmond Arts Festival | Redmond Town Center, Redmond, WA | 19/20 |
| July 26th - 28th | Bellevue 6th Street Fair | 6th St., Bellevue, WA | B21 |
| Aug 2nd-4th | Kimball Arts Festival | Main St., Park City, UT | 325/327 |
| Aug 30th - Sept 2nd | Sausalito Art Festival | Marinship Park, Sausalito, CA | 314 |
| Nov 8th - 10th | Best of the Northwest Fall Art & Craft Show | Magnuson Park Hangar 30, Seattle, WA | TBD |
---
Past shows : 2018 Events & Exhibits
DATE

SHOW/EVENT/GALLERY

LOCATION

BOOTH

March 24th - 25th

Best of the Northwest Spring Art & Craft Show

Magnuson Park Hangar 30, Seattle, WA

Gallery-P6

April 6th - ongoing

Selected photos from my Utah Desert and Carbon County Historical Collections.

Trackside Gallery @ the Helper Hub - 133 S. Main Street, Helper, UT

N/A

April 20th - 22nd

T

ulip Festival Street Fair

S. First Street, Mount Vernon, WA

104

May 4th - 6th

Memorial Park, Wenatchee, WA

C24

May 25th - 28th

Juan de Fuca Festival

Vern Burton Community Center, Port Angeles, WA

51

June 1st - 3rd

ArtFest Spokane

Coeur d'Alene Park, Spokane, WA

R1

June 15th - 17th

Edmonds Arts Festival

700 Main Street, Edmonds, WA

333

July 13th - 15th

Redmond Arts Festival

Redmond Town Center, Redmond, WA

44

July 21st - 22nd

G

ig Harbor Summer Art Festival

Judson Street, Gig Harbor, WA

29

July 27th - 29th

Bellevue Arts Museum ARTSfair

Bellevue Square, Bellevue, WA

M7

August 3rd - 5th

Kimball Arts Festival

Historic Main Street, Park City, UT
200
DATE
SHOW/EVENT
LOCATION
BOOTH
March 25th & 26th
Best of the Northwest Spring Art & Craft Show
Magnuson Park Hangar 30, Seattle, WA

H4

June 16th, 17th, & 18th

Edmonds Arts Festival (Festival)

700 Main Street, Edmonds, WA

122

June 16th, 17th, & 18th
Edmonds Arts Festival (Juried Gallery)

*

Inside the Francis Anderson Center @ 700 Main Street, Edmonds, WA

N/A

July 7th, 8th, & 9th
Redmond Arts Festival

Redmond Town Center, Redmond, WA

31

July 21st, 22nd, & 23rd
Sequim Lavender Festival

West Fir Street, Sequim, WA

145

July 28th, 29th, & 30th
Bellevue Festival of the Arts
10300 NE 8th St, Bellevue, WA

163

August 4th, 5th, & 6th
Kimball Arts Festival
Historic Main Street, Park City, UT
443
August 11th, 12th, & 13th

Art Fair Jackson Hole

Miller Park, Jackson, WY
4
September 16th
Affordable Art for Everyone

**

Washington County Fair Complex, Hillsboro, OR

L12
October 7th & 8th
Issaquah Salmon Days Festival

Front Street & Sunset Way, Issaquah, WA

414
November 10th, 11th, & 12th

Best of the Northwest Fall Art & Craft Show

Magnuson Park Hangar 30, Seattle, WA
P8